Graphic Design - Professional Design For Leaflets, Flyers and More
No artwork? No problem! At Affordable Leaflets we design leaflets, flyers, posters and more, to meet your unique needs. We're part of the NWDS Group, which already includes a full service media agency, property newspaper publishing company and a print-buying company, so you can guarantee complete professionalism and time-earned expertise.
Our team of account managers, graphic artists and web designers work on-site in our design studio, creating high-impact, eye-catching, innovative artwork to promote your business. In fact, we're able to work with you from concept to campaign planning, throughout the entire creative process.
How to select our graphic design services
When placing your order, select 'WE DESIGN', upload any logos or images you would like us to use, and let us know if you have any preferences for colours or layout. Within a couple of days we'll email you with a design concept for you to proof. We'll then amend your artwork as per your feedback, allowing for two lots of written amends or on-screen proofs, to ensure you are completely satisfied.
Alternatively, you can purchase our professional design services by the hour
Click the image below to download the full specification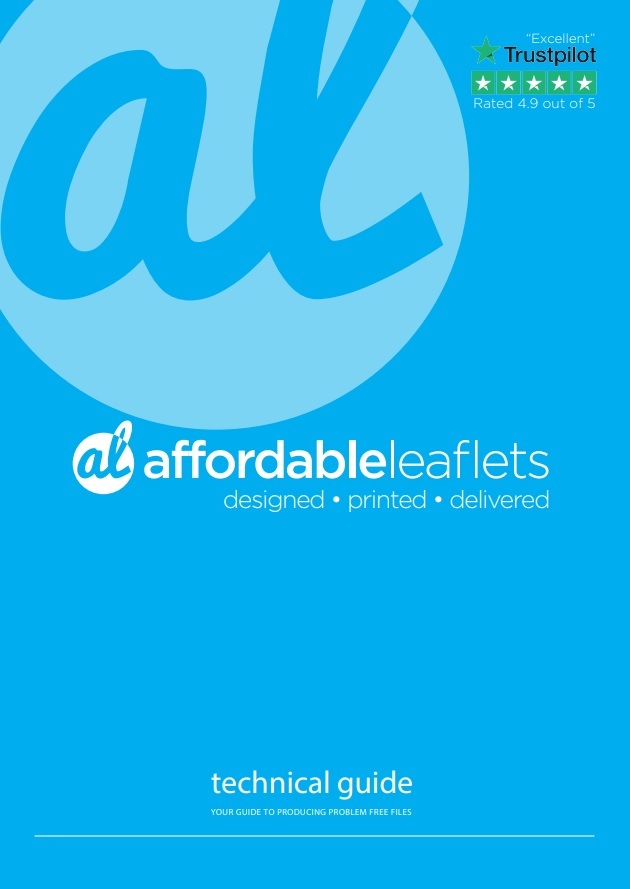 Setting Up Design Files For Print
Are you new to designing files for print? It can certainly be a confusing and enormous process to undertake. Not only preparing your design but also ensuring your project is correctly set up for print. Creating a design that works well to fit your brand on paper can also be a minefield that we can help you to navigate.
How to set up your design files for print?
There are several things you'll need to consider when initially setting your file up, this practical guide will walk you through the main processes. No matter whether you're designing a flyer, booklet or a T-shirt or any other printed material from Affordable Leaflets we`ll point in you in the right direction.
Templates – All of our products have templates that can be accessed via the product pages.
Sizing – There will usually be a set-up with the correct sizing, we would recommend checking the style guide to avoid any mistakes.
Bleed – The area added to the edge of your artwork which includes any blocks of colour or background design which reaches the edge of the page. To create a bleed, simply extend your image, colour or text 3mm over the edge of the page.
Quiet Border – The area within your artwork which does not contain text, images or logos (unless they bleed off the edge.) We recommend at least 3mm, but preferably 5mm, from the trimmed edge of your artwork. We also recommend all borders are at least 3mm (ideally 5 mm) thick to ensure an even finish when trimmed.
Resolution – Refers to the sharpness and quality of the images provided. The higher the resolution, the better quality the final printed product you will receive.
Images – Imagery used in any artwork files for small-format print should be high resolution, the standard for which is 300dpi (dots per inch).
RGB – When designing things for digital such as websites or social media graphics, you'll be more inclined to use the RGB Colour mode. This is usually the default setting for most graphic design applications like Photoshop or Illustrator. Don't set your document to RGB for print.
CMYK – Always set your document to use a CMYK colour profile for print. If you accidentally use RGB, don't fret as we can convert these colours to CMYK. They may be slightly different than your original colours.
Black – Your artwork should use the colour value C0 M0 Y0 K100 for all black text. We'd recommend using black only for any text below 12pt. For black fills, we recommend C40 M0 Y0 K100 for a 'cool' rich black or M 40 K 100 for a 'warm' rich black.
Spot Colour – Keep your colour setting as CMYK and use the swatches available in the colour library within the colour palette. These are Pantone®colours.
Fountain Fills & Transparencies – We cannot accept artwork for spot colour jobs containing fountain fills, however, fountain fills are accepted for full-colour jobs.
Ink Coverage – Avoid colours exceeding a maximum of 300%. We utilise corrective software to reduce any ink coverage down this cut of point. You can work out the total prior to submitting by adding the C, M, Y and K values together
How to do your document set up due diligence
When it comes to achieving the best print results, we would always advise you to carry out your due diligence. It comes as no shock but a costly reminder to check your spelling before sending it off to be printed. It does sound obvious, but you would be amazed at the number of costly spelling mistakes we've seen over the years. We have compiled a quick checklist below to help you get your print perfect every time:
Overprint – is a specification in your print file allowing different colours to interact with each other. The only time we ask for overprint is when supplying Large format Vinyl or Labels on a roll products.
Adding text on top of a PDF – Ideally, to add to your file, open the original artwork file and enter your text there. Text won't be embedded in the PDF if an Adobe Acrobat Typewriter tool is used.
Hairline – Hairlines may print well on your 300dpi printer in the office, but on our 2400dpi lithographic presses these lines may not be visible. We recommend using a minimum line weight of 0.25pt to ensure accurate results.
QR codes – We can print QR codes and barcodes, however please double check they work correctly before submitting your artwork. Please also note, if you supply a Just Print job without a bleed, we will enlarge your job to create a bleed which will also enlarge any QR codes or barcodes present on the artwork.
ICC Colour profile – The output press profile we use is ISOcoated_v2_eci.icc so all images within your file will be converted to this profile. Any other profiles used in your file will be overwritten.
Colour Variations Printing Method – Play a significant role in how the final product will look. The type and colour of paper you choose for your print job may affect the final printed colours within the job as all inks are transparent.
Colour Variations In Paper Stock – The type and colour of paper you choose for your print job may affect the final printed colours within the job as all inks are transparent.
Ink Variation – Due to ink tolerances your colour may vary slightly from your design file and between print runs.
Colour Banding – Colours like Cyan, Yellow, Magenta or Black are prone to banding. Avoid using large areas of solid colour.
On-Screen Colour – If your colours are not referenced from a Pantone®Book but instead are a CMYK mix then we cannot predict how they will look when printed.
Vector/Bitmap Colour – Once printed, areas of colour in your artwork that have vector fills will appear differently to bitmap fills, even when the colour values are identical.
Fonts – Minimum font size on any printed jobs should be not smaller than 5pt, we do recommend using 100% black for text smaller than 12pt. As mentioned previously, text should also be embedded within the document.
How to prepare a file for print
Pre-flight checking is vital when preparing PDF's for submission. The earlier in a process that problems are detected, the easier it is to resolve these going forward. Acrobat Professional is readily available and generally utilised by many of our customers.
File Formats – We recommend that you provide us with a PDFx1a-2001 ?le, although we also accept PDF/x3 and PDF/x4 (as well as various other PDF formats for printing). We also accept jpg, eps or tiff and will turn your finished design into a print ready PDF, depending on the artwork service you select
Image Resolution – DPI "Dots Per Inch" is essentially the same as PPI, only translated into the real world of printing rather than the world of a digital computer screen. The lower the dpi of your images, the poorer the results may be once printed - the ideal standard is 300dpi.
PDF Creation – When creating a Print Ready PDF from your design file, recognised PDF-maker such as Acrobat Distiller is a firm favourite with our customers.
Embedded Fonts – Please ensure you save your artwork as a PDF/X1a to ensure the fonts are embedded. Alternatively, you can vectorise your fonts by outlining them or converting them to curves. You can also rasterise your fonts, but we suggest this as a final option as it can cause the edges of text to soften and not appear and sharp when printed.
Crop Marks – These are the marks that are used to cut your job to the correct size. You can add them by ticking the "crop marks" option when you create the PDF from your artwork file. We recommend offsetting the crop marks by 3mm to ensure that they are not visible on your finished product.
Supplying Multiple Sets – To create a PDF from multiple PDF files please use the 'Combine Files into PDF' function in Acrobat and save the pages out again as a singular pdf. If your software does not have this function there are many options available if you search "Combine PDF files" online.
1. Multi-page PDF option is 1 PDF which contains multiple pages.
2. Page PDFs combine each set into individual PDFs.
Orientation – Please ensure your files are supplied in the correct orientation. If you have ordered a 4pp leaflet or greeting card with a long edge fold please supply your artwork as follows:
If your artwork is landscape, please supply your pages in landscape orientation. If your page is rotated 90 degrees, this will result in the back of your job printing upside down. Similarly, if your artwork is portrait, please supply your pages in portrait orientation.
Image Resolution – DPI "Dots Per Inch" is essentially the same as PPI, only translated into the real world of printing rather than the world of a digital computer screen. The lower the dpi of your images, the poorer the results may be once printed - the ideal standard is 300dpi.
Mock-up – Our free mock-up templates are perfect for creating quick product imagery. Get started by downloading our pro tools product mock-ups service.
Specialist Print
Providing bespoke specialist printing does come with its challenges which we through this article aim to provide you with all of the queries you may have about trade printing.
Folding – For a 4pp leaflet, for example A4 folded to A5, please supply artwork as a 2-page print-ready PDF, with the pages in pairs, as follows:
PDF Page 1: Leaflet pages 4 & 1
PDF Page 2: Leaflet pages 2 & 3
Please do not supply as a 4-page PDF
Folders – There are 4 folder sizes to choose from, DL, A4, A5 or Square, which are oversized to accommodate that paper size
Saddle Stitched Booklets – Please supply your booklet in single page format, in the correct running order from start to finish
Perfect Bound Booklets – Please supply your perfect bound booklet as 2 PDFs.
Spot UV – Spot UV is an area of Ultra Violet gloss coating that creates a glossy finish to targeted areas of your print job.
Labels – When ordering a custom shape, please use the widest and highest dimensions of your shape to order.
Digital T-Shirts – Full-colour t-shirt printing directly applies the ink to the t-shirt fabric using digital inkjet printing technology.
Screen Printed T-Shirts – Screen printing is the process of pushing ink through a woven mesh stencil onto the t-shirt.
Large Format – Boards to suit all purposes, from outdoor signage, exhibition signs to estate agent boards.
Exhibition Stands – An ideal way to stand out at a trade show, exhibition or pop-up event.
It's advised to take extra care when setting up your file and using our templates from the product page.
Conclusion
That's about it from this overall guide! We are continually bringing out new products on a weekly basis and will be adding and removing additional information within this page to keep you up to date with the latest artwork tips and specifications so that you will have a perfect print the first time, every time.